Part Two / Webisode 002-2

The word on the street has reached the ears of Barba, the mystical seductress of the millennium. She picks up her C3 and contacts the Barba Rocket Patrol.
Ring-a-ling..........Sapphire answers. She is then authorized to protocol mission #444-69. The details of the assignment have been previously outlined.
Sapphire concurs the assignment and then prepares to address the mission at hand. She now exits the shower and begins to dry herself off. From head to toe and everywhere in between, the first towel in the world that got to "third base". A blow dryer in one hand and her cosmic cell communicator in the other, she summons her sisters. While standing in front of a mirror, she now reflects on memories of Viobrator and the "sticky" details surrounding her constant battle with the Space Crime Syndicate.
Reminiscence of a few years earlier, Sapphire recalls receiving a love letter on her doorstep one evening. The letter read: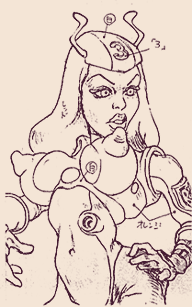 SAPPHIRE BLUE ROSES ARE RED
VIOLETS ARE FLOWERS
I CAN HUMP FOR HOURS AND HOURS
YOUR CHEE-CHEE'S SO BIG
YOUR BOOTY SO ROUND
HOW MUCH WOULD IT COST FOR YOU TO GO DOWN?
TO A CAFE OR EVEN A SHOW GIVE ME A KISS THEN GIVE ME A......CHANCE.
HUGS AND KISSES,
V.D.
To say the least, this letter upset her. She now realizes that she too has become the prey of a perverted stalker. Although she is used to having been seen as an object of sexual desire, she felt violated to have been beleaguered by "Viobrator the Destructor". Who in their right mind would want to be targeted by V.D.! This whole situation just makes her tingle with an irritating itchiness and burning sensation that no cool soothing ointment could remedy. She was prepared to kick someone's ass!
Forward to present, Sapphire is now in the company of her sisters. They now discuss a plan to subdue the evil forces of Viobrator. Somehow they will have to protect Splurty and attempt to rescue Pinky Poosay from the Space Crime Syndicate. Topaz has suggested that she goes undercover as a prostitute and try to catch Viobrator with his pants down. Garnet proposes to use Pinky as bait to catch them in the act of abduction. This would then justify taking them out with excessive force and extreme prejudice. Sapphire over-rules both ideas as she comes up with her own plan. Recalling his love for human female breasts, she attempts to show her sisters the secret to their success. Sapphire then whips out her boobies and shows her sisters what Viobrators?L true weakness is. This bona fide bombshell has a clever idea to use this key glandular organ information as a platform to entice Viobrator into a compromising position.

Distraction is the key to catching Viobrator and there is nothing more distracting to a horn-dog than a pair of big ol' bouncing boobies. Topaz replies, "yes there is, three pairs of big ol' bouncing boobies!" They all share a laugh and then proceed to discuss the details of the assignment.
Basically, the task at hand is to confront Viobrator during the kidnapping and attempt to apprehend him. This was all to take place at the San Angeles National Zoo. The first step is staking out Pinky's living quarters and wait for the thunder. An hour or two into the waiting game, a rumbling sound can be heard in the distance. It sounds like a series of booming farts being laid underwater. A bubbly "pooting" hullabaloo approaches while a Trojan horse type figure appears over the horizon. Entering the confines of the zoo, a picturesque statue standing tall and erect comes towards the entrance of Pinky's place. A beautiful white horse with a well- hung ribbon to boast sits at the doorstep and becomes silent. What appears as a lovely gift is indeed a scam to confuse Pinky's entourage, courting them to let their guard down.
The Barba Rockets prepare to step into action just as a scream is heard coming from Pinky's residence. At that moment, Viobrator is seen exiting the premises with Pinky Poosay in his custody. He jumps into his hot rod and proceeds to give the Barba Rockets the finger as he leaves. Just then, Sapphire unleashes her boobies and warms up her "sakicho laser". Viobrator then "flips a bitch" to get a closer look at them. Topaz then whips out her boobies and attempts to warm up her "sakicho laser" as well. She's rubbing and twisting her nipples only to squirt gallons of milk onto the roadway. As Viobrator approaches, his car spins out in the creamy boobie milk as he crashes into a tree. He quickly jumps out the window of his now thrashed ride and flees. Luckily enough, leaving Pinky Poosay and Splurty in the backseat. The backseat of a supped up hot rod or a righteous "bone zone" as Splurty would call it. Cigarette anyone?
Be sure to tune in next month to see the "pink and splurt" of it all!

Next